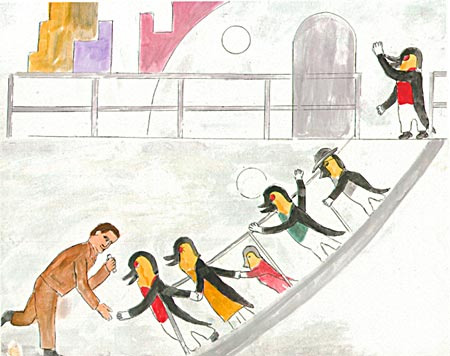 Then, the captain called the Happy Wacky family into the Radio Room. He turned on his computer and video conferenced his company. The penguins were astonished that this could be done. After this meeting, the captain asked Happy Wacky, his entire family, and other penguins to come back to America with them. The Wacky Family, being very adventurous, liked the idea, but not the rest of the penguins.
So Happy Wacky and his family set fourth in preparation for the big trip on this very large ship. They packed all of their belongings and said goodbye to their penguin friends. They felt so sad to leave them behind, but they knew they were going on a wonderful adventure.
As the ship docked in New York City, the penguins became very excited. They looked so cute in their new outfits the crew members made for them.
A great ticker-tape parade on 5th Avenue was held in honor of the Happy Wacky family. They rode in a big open limousine so everyone could see them. The crowd went wild with joy and disbelief at the beautifully dressed penguins.
Then on to City Hall, where the mayor presented them with the key to the city. In return, Happy Wacky gave the mayor a statue of a penguin, carved of black stone. The rest of the day, the mayor showed them the city museum.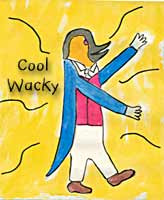 Later, they went out to dinner at the Fulton Fish Market. Trouble started when Dolphin Fish was served to the penguins. Happy Wacky refused the fish, thinking that it was really dolphin. The owner explained that it's a regular fish, and not a dolphin, but it just happens to have the same name. The crowd cheered them on and the television reporters and the press captured every minute.
Now, Happy Wacky and his family needed a hotel room because they were tired from a long and exciting day. He was given a very fine room. The next morning at breakfast, the penguins were invited to go on a cross country tour of America in a luxury train. Happy Wacky and his family were so excited. After a day of shopping and sightseeing in New York City, they were finally ready with their new outfits for their tour of America.
Early next morning, a limousine picked up Happy Wacky and his family to take them to the train station. In their new outfits, Happy Wacky and his wife Persy felt like 10 feet tall. Grandma and Grandpa Wacky, as they were almost 4 feet tall, were tall enough to see out the window. The scenery made them happy. Uncle No-no did not think the air conditioner was high enough, Aunt Money Penny liked reading the stock reports, and the two teenagers liked playing and talking to other kids on the train.