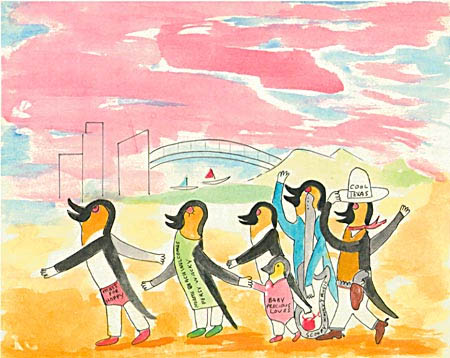 Sir Wacky enjoyed the train lounge, which was very comfortable. Scoope enjoyed the music. Cool enjoyed everything on the train. As for Happy Wacky, he liked talking to everyone about everything. Persy did not like anyone smoking because it is bad for Precious. Julie enjoyed the wonderful variety of foods served in the dining room. As they passed the great cities of the East, the industries of the North, the great open West, and the hospitality of the South, they said, "America is Beautiful!"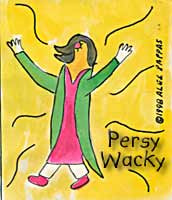 In Philadelphia, the City of Brotherly Love, all the penguins loved the people. In Cleveland, Ohio, Scoope loved the music, and was given a special guitar as a gift. The penguins also loved the Windy City, called Chicago, the farms of Desmoines, and Salt Lake City. They liked these places because of the open spaces. In San Francisco, the penguins had fresh fish on a dock restaurant. Upon returning, they visited Las Vegas. They loved Las Vegas because of all of the lights. But, not knowing their exact age, the casino would not allow them inside. Happy Wacky said "Just as well, we have no money to loose anyway." In Dallas, Texas, Cool and the kids were given a complete cowboy outfit which they loved. In New Orleans, Louisiana, Julie loved the food, and the rest of the penguins were given a tour of the French Quarters. In Miami Beach, Florida, Grandma and Grandpa Wacky were most happy. Persy Wacky loved the ocean, Zoh thought the fashion was tops, and the kids played on the sunny beach.
Their journey continued. Back on the train through Charleston, Atlanta, and into Washington D.C., they all went to see the President of the United States. At the White House, the President greeted them, and asked them to sit down to lunch. The next day, they went on a tour of Washington and saw Lincoln's tomb. Happy Wacky was told what happened to Lincoln. Happy Wacky asked, "Why would anyone want to hurt another person?" Early the next morning, their train headed back to New York City.